Octopus and potato salad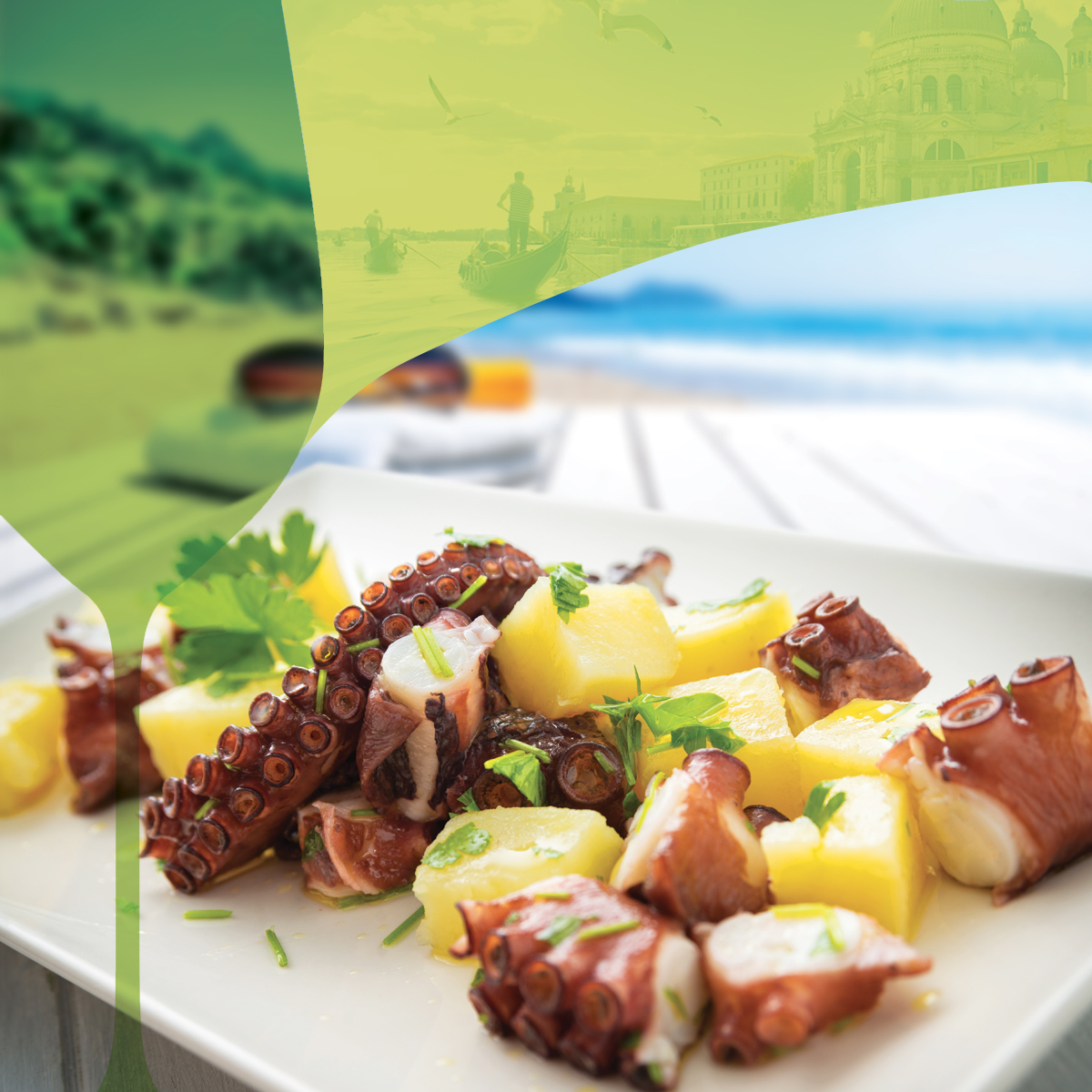 Insalata di Polpo e Patate
Octopus and potato salad
Un must dell'estate che accontenta i palati di tutti? L'insalata di polpo e patate! Un piatto semplice, fresco e sfizioso da consumare come aperitivo o antipasto, accompagnato da un bel calice di Pinot grigio delle Venezie DOC!
A summer must-have that satisfies everyone's taste? Octopus and potato salad! A simple, fresh and delicious dish to eat as an aperitif or appetizer, accompanied by a nice glass of Pinot Grigio delle Venezie DOC!
Ingredienti per 4 persone / Ingredients for 4 people:
1 kg di polpo / 1 kg octopus
1 kg di patate / 1 kg potatoes
prezzemolo fresco / about 1/2 glass of extra virgin olive oil
circa 1/2 bicchiere di olio extravergine / half a lemon (even 1 whole according to taste)
mezzo limone (anche 1 intero a seconda dei gusti) / fresh chopped parsley
prezzemolo fresco tritato / peppercorns mix to grind at the moment
sale q.b / salt to taste
pepe mix in grani da macinare al momento / pepper mix in grains to be ground at the moment
Preparazione / Preparation
1. Prima di tutto pulite accuratamente il polpo eliminando l'osso, gli occhi e le scorie dalla testa. Fate bollire l'acqua e una volta giusta a bollore, prendete il polpo per la testa, immergete i tentacoli in acqua bollente pochi secondi poi fate risalire il polpo. Ripetete quest'operazione 3 volte. In questo modo vi assicurate che le carni iniziano già ad ammorbidirsi.
1. First of all, clean the octopus thoroughly, removing the bone, eyes and waste from the head. Boil the water and once it is just boiling, take the octopus by the head, dip the tentacles in boiling water a few seconds then bring the octopus up again. Repeat this operation 3 times. This way you make sure that the meat starts to soften already.
2. Mentre il polpo cuoce, preparate la citronette, tritando su un tagliere 2 – 3 ciuffi di prezzemolo.
2. While the octopus is cooking, prepare the citronette by chopping 2 – 3 tufts of parsley on a chopping board.
3. Infine aggiungete sempre sul tagliare la metà dell'olio, il sale e il pepe, continuate a sminuzzare con un coltello a lama grande o meglio con una mezza luna; aggiungete quindi il succo di limone fresco.
3. Finally, always add on the cut half of the oil, salt and pepper, continue chopping with a large-bladed knife or better with a half moon; then add the fresh lemon juice.
4. Quando avrete ottenuto un composto amalgamato disponetelo in una ciotola con il resto dell'olio. Mescolate benissimo, coprite e lasciate da parte in infusione.
4. When you have obtained an amalgamated mixture, place it in a bowl with the rest of the oil. Mix well, cover and set aside for infusion.
5. Poi a parte, sbucciate le patate, tagliatele a dadi grossi, bollitele in abbondate acqua per circa 20 minuti, mi raccomando a monitorare la cottura! le patate devono essere morbide ma non molli! altrimenti si sgretoleranno quando andrete ad amalgamarle. Scolatele su un piatto e lasciatele raffreddare distanziate (non ammassate)
5. Then apart, peel the potatoes, cut them into large cubes, boil them in plenty of water for about 20 minutes, I recommend monitoring the cooking! The potatoes must be soft but not soft! otherwise they will crumble when you go to mix them. Drain them on a plate and let them cool spaced out (not piled up).
6. Quando il polpo sarà morbido e ben cotto, trasferitelo su un tagliere e fate raffreddare! non tagliate il polpo caldo altrimenti si staccano i tentacoli! Affettate pezzi di circa 2 cm quando è freddo.
6. When the octopus is soft and well cooked, transfer it to a cutting board and let it cool! don't cut the hot octopus or the tentacles will come off! Slice pieces of about 2 cm when it is cold.
7. A questo punto aggiungete una parte di condimento nel polpo, mescolando bene; una parte di condimento nelle patate, mescolando bene. Infine unite il polpo con le patate; amalgamate tutto insieme delicatamente, valutate se aggiungere sale, pepe, un pizzico di limone in più oppure ancora un giro d'olio in base ai vostri gusti!
7. At this point add a part of seasoning in the octopus, stirring well; a part of seasoning in the potatoes, stirring well. Finally, add the octopus with the potatoes; mix everything together gently, considering whether to add salt, pepper, a pinch of lemon or a pinch of oil according to your taste!
8. Lasciate riposare per almeno 1 h in frigo prima di servire! meglio se tutta la notte! Prima di servire, lasciate a temperatura ambiente per un po' di tempo! Ecco pronto il Polpo con patate!
8. Leave to rest for at least 1 hour in the fridge before serving! better if all night long! Before serving, leave at room temperature for a while! Here's the Octopus with potatoes ready!
Buon appetito! / Enjoy your meal!
#pinotgrigio #stileitaliano